#Rando: app per #PhotoSharing a random per chi non ama i classici #Socialnetwork. Che ve ne pare?? http://t.co/ipZPhuprkR via @youtube

May 23, 2013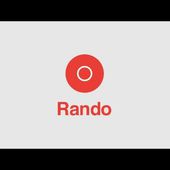 Introducing Rando -- The experimental photo exchange platform.
Download https://itunes.apple.com/gb/app/rando/id588683021?mt=8 http://rando.ustwo.se/ Rando by ustwo™ - out now for iOS! Introducing Rando -- where serendipity rules the day and users send and receive random photos to and from random people all over the world. Rando is an experimental photo exchange platform for people who love photography. Take a picture.